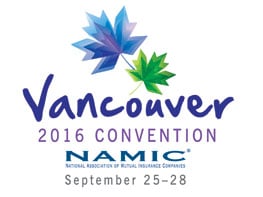 Risk Control Technologies will be participating in The NAMIC Annual Convention in Vancouver, British Columbia, Canada from September 26-27. We will be in booth 603 to discuss and demonstrate our leading loss control/workplace safety management software which has helped leading insurers in streamlining loss control operations.
The Convention is an exceptional opportunity for professionals within our industry to have an open discussion and voice ideas on topics of particular interest.
For those in attendance, please stop by our booth at the Vancouver Convention Centre. We will be happy to discuss or demo our loss control software platform and talk about how we have helped leading carriers leverage technology to make the most out of their loss control operations.
For more information on the event, visit the NAMIC 2016 Convention website.
Risk Control Technologies is a leading provider of loss control management systems for the insurance industry. For more information, visit www.riskcontroltech.com.