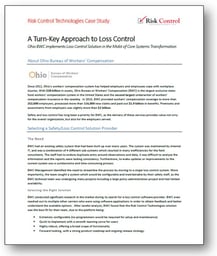 Ohio BWC implements Loss Control Solution in the Midst of Core Systems Transformation
We have released a case study profiling the successful implementatition of the Risk Control Technologies platform with the Ohio Bureau of Workers' Compensation.
With $28 billion in assets, Ohio Bureau or Workers' Compensation (BWC) is the largest exclusive state fund
workers' compensation system in the United States and the second largest underwriter of workers'
compensation insurance in the country. In 2015, BWC provided workers' compensation coverage to more than
252,000 employers, processed more than 116,000 new claims and paid out $1.9 billion in benefits. Premiums and assessments from employers was slightly more than $2 billion.
This case study outlines how Ohio BWC:
Gained buy-in for a new system despite many other ongoing IT initiatives
Leveraged non-technical resources for all implementation tasks
Completed a full system deployment in less than 8 weeks
Download the case study from our resource library below.