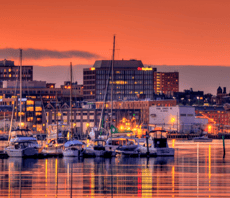 Recap from the Alexander & Schmidt Loss Control Forum 2016
I had the opportunity to attend the 2016 Loss Control Forum presented by Alexander & Schmidt this month as a presenter about the future of loss control systems. Held in beautiful Portland, Maine, it was a great event which brought together loss control leaders around the theme "Loss Control – The Next Generation".
A major focus of the event was helping the attendees consider – what's next? – in order to ready their organizations for the inevitable changes which will occur over the next few years in the insurance space.
Collaboration and Skills Development
One panel included representatives from CNA, Zurich and Hanover who discussed the strategic role of loss control in commercial underwriting. In addition to providing examples of how tight collaboration between loss control and underwriting has enhanced the relationship with insureds and resulted in improved results, one concept I found particularly interesting was implementing the idea of "emerging hazard champions" within the loss control team. This concept addresses the age old issue of breath vs. depth which is inherent for carriers with a broad geographic reach, where each consultant must have a minimal level of knowledge in a wide array of risks and hazards. The idea here is that by assigning an individual to dig in deeper to specific emerging hazards, they not only be called in to consult on certain risks, but they can also provide in-house training to other team members to increase the level of knowledge across the board. By maintaining a watchful eye on emerging hazards, carriers can also spot the next silica or asbestos before it becomes a major issue.
Another great idea which resonated with me from one of these panel presenters was that getting loss control consultants involved in certain claims processes can also serve as a mechanism to broaden their knowledge base. The philosophy that "every claim is a chance to learn" is something that every carrier should embrace, as claims are the real test of whether or not the consultant identified the right hazards during their assessment.
Several of the loss control leaders have also implemented a loss control stewardship process within their organizations with the goal of increasing collaboration with underwriting and claims stakeholders. This process has also served to increase the visibility of the value that loss control brings to the customer relationship by highlighting the services delivered and the recommendations remediated by the loss control team.
Lastly, as I have written about previously, the industry overall has shifted heavily from 'inspection' to 'consultation' mode over the last number of years, but some of the loss control leaders in attendance identified that their team members needed training around how to actually be a consultant. These skills are often not innate to everyone, so as a manager it is worth doing a critical assessment of consultative skills during a ride along with your consultants to determine whether this is an area which needs strengthening.
Opening up New (Profitable!) Markets
With competition increasing and profits shrinking in standard lines, many carriers today are constantly searching for new untapped strategic markets to approach. Presenters discussed several accounts of carriers utilizing effective loss control in specific higher risk classes of business in order to effectively attack a segment that most carriers would not dare touch. From a strategic perspective, actively pursuing roofers or solar panel installers might make many underwriting executives cringe, but when paired with a solid loss control program, these markets can prove to be extremely profitable.
One carrier executive discussed the fact that having sound loss control practices in place can also lead to more attractive facultative reinsurance pricing – an interesting side effect that would not be highly visible to most people in the organization (aside from the individual actually placing the reinsurance).
The Reality of Drones in Loss Control
Charles Mondello of the Property Drone Consortium presented some eye-opening facts about the emerging use of drones in the insurance industry. What really hit home for me was the trade-off between the use of drones for mitigation of risk and the actual risk inherent in the commercial usage of drones. Not only does anyone utilizing a drone for commercial use have to have a pilot's license, there are also strict regulations around where drones can fly, what imagery can be captured and the insurance coverage which must be carried by drone operators.
I was also surprised by the limitations of the technology which I had not previously considered such as the fact that the units should not be stored in hot cars or basically cannot be operated in very cold climates due to the lithium ion batteries.
Mondello did stress that a drone should not be seen as a replacement for a loss control engineer, rather it should be viewed as another tool to help the engineer capture additional data points. I agree that there are definitely some situations that would warrant the use of a drone for image capture, but I am still not convinced that this technology is a game-changer for your average loss control operation.
Overall, the event offered great insight into some of the emerging trends in loss control and the team at Alexander & Schmidt did an outstanding job hosting us all in beautiful Portland.