As we continue to move through uncertain times, the adaptability of businesses and organizations to the current world climate is quickly becoming the name of the game. Those who are succeeding in keeping business operations functioning at a high level have by necessity adapted quickly to the changing circumstances.
As our customers continue to be significantly impacted by COVID-19 and its implications, many risk control and safety teams have been faced with challenges to reaching and servicing their policyholders remotely as a viable replacement to in-person consultations.
The need to adapt to changing conditions goes beyond day-to-day operations. With policyholders needing to prepare for a variety of potential situations while also evaluating long term outlooks and return to work options, insurers being able to reach policyholders remotely is vital. With the removal of in-person visits and consultations in many areas, the industry suddenly looks very different than it did several months prior.
Our recent webinar, How Loss Control is Evolving Amidst COVID-19, focused on the impact of COVID-19 while providing an opportunity to look at the challenges facing the industry and discuss best practice methods for mitigation. We were joined by Eric Bourquin, Vice President of Safety Services at Texas Mutual Insurance Company, who was able to provide invaluable insight into real-world solutions for how he and his team are tackling COVID-19. We are grateful to Eric for sharing his thoughts during a time where the close-knit nature of the risk control and safety community can provide significant value to its members.
Development of online resources
A natural progression of the COVID-19 pandemic is leveraging technology and capitalizing on simple and reliable virtual tools for continuing business. Eric discussed how Texas Mutual benefitted from an existing 'work-from-home' technology infrastructure being in place, greatly increasing the ease of transitioning internal staff.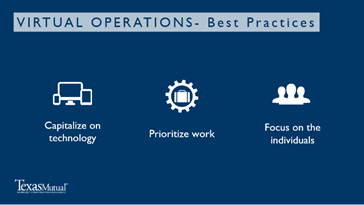 This leveraging of technology has led to many organizations placing an increased focus on additional creative approaches for providing risk control and safety services. These include online self-assessments, phone surveys, video conferencing, and even instant messaging. While adjustments are certainly necessary, these approaches can in many instances be effective for identifying hazards, offering recommendations to be completed on-site, as well as continuing to grow the relationship between consultant and policyholder.
Communication of changes

It is important to continue openly communicating with clients, identifying the items that are 'on hold' currently, as well as any new resources and potential adjustments moving forward. Many businesses and individuals are facing a time of immense uncertainty and stress, and will greatly appreciate knowing your team is there to help.
Several carriers have seen a marked increase in inbound requests for resources, guidance, or policyholders asking when on-site visits will resume. In part, this may be due to a renewed focus on safety, as well as some policyholders simply having more time on hand. Eric explained that as part of this, there is an opportunity to identify which situations would be a natural fit for moving to a virtual platform moving forward. However, Eric stressed that in certain situations there will continue to be a need for personal face-to-face interactions and an empathetic touch, such as with organizations that have experienced a catastrophic injury or fatality.
Adapt for the now...
Externally, this means being prepared for more things happening 'in the now'. As mentioned above, the recent uptick in clients renewing focus on safety improvements means that more short-notice requests for support are coming in. Having the infrastructure and resources in place to answer these requests is crucial.
On an internal front, the employees of the company are its lifeblood, and need support just as much as customers. Focusing on employee health and wellbeing ensures staff are supported and in a position to assist insureds. Eric mentioned that Texas Mutual has focused on several employee engagement methods and will continue to use technology to prioritize employee challenges from a home and health perspective, as well as managing expectations internally and externally.
Adapting for the future
The long-term impact of COVID-19 on business operations (and, by extension, the world) will likely prove difficult to overstate. Risk control is not excluded from this, with an increased focus on leveraging technology likely in areas such as virtual surveys, particularly due to cost-effectiveness and efficiency moving forward.
Having an established technology infrastructure allows for continuation in the future, which is often a key roadblock to companies adopting virtual options. The current climate has forced clients and policyholders alike to become much more familiar with digital approaches, and while operations will certainly normalize to a degree, an increased focus on servicing customers virtually is likely here to stay.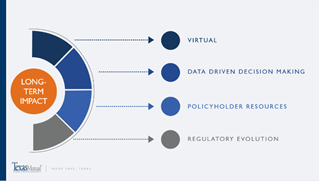 As the industry's largest provider of risk control software, RCT is focused on how our solutions can help, and continuing to focus on being an exceptional partner to our customer community.
RCT is working on several initiatives geared towards providing and enhancing virtual tools. These include enhancing online self-assessments, video conferencing, and phone survey reporting. We have also released financial packages to help risk control and safety teams acquire the tools they need to navigate uncertain times. For more information on how RCT can help, contact us today.