David Hanley – Risk Control Technologies with Guest Contributor: Rick Fineman, Vice President of Risk Management – ICW Group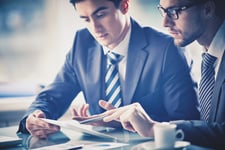 Loss control consulting is more than just a feel-good initiative for clients. It also goes far beyond an intuitive hunch to account management. It is a demonstrable method of improving bottom-line performance for insurers.
The obvious advantage of effective First Seat Consulting is loss reduction. By enhancing loss control and improving long-term account profitability, insurers can boost financial results in key areas, such as loss, combined and expense ratios.
Risk-Driven Profit
Since account premiums are based on historical performance, any improvement in the risk profile through loss control consulting and risk management activities that reduces future losses is a profitable venture.
This is what we call "risk management driven" profit. It is often difficult to prove as the individual account might have just been lucky, hired new management or brought in a renewed safety focus. The crucial factor is being able to track the loss control activities at the micro level in a loss control management system. This has to include details contained in the insurance risk assessment, recommendations made and remedied by specific account to correlate against experience over time. The old axiom applies: "If you can't measure it, you can't manage it."
Other benefits accrue from taking a more proactive stance to loss reduction. Take, for example, account selection and retention. There is no greater impact on an insurer bottom line than avoiding a bad account. Again, information on class of business, account claims experience and profitability is critical.
What about retention? A study done by a leading insurer showed that the cost of new business versus renewal is 27% vs. 7% respectively. The situation is familiar to many insurers – the cost of acquiring new business is high because carriers look at many accounts, quote a few and write even fewer. A sharp focus on renewing accounts based on service delivery can pay huge dividends.
Account Retention
Another study by a major insurer demonstrates a strong correlation between delivery of loss control consulting services and account retention. The crucial takeaway is that multiple loss control touch points make a major difference; a single 'inspection' or visit however has little to no impact on retention.
This gets us to differentiation. Certainly, insurers have some opportunity to set themselves apart based on price and coverage. However, in many lines of business, such as workers compensation, the products are similar, if not identical. That leaves service as a key differentiator. Beyond the claims staff, it is usually risk control consultants who are the only direct contact with the client. That is a potentially powerful tool to raise a company's profile in the marketplace.
So if the benefits of loss control consulting are vast, why aren't all insurers on board? There are some obstacles. Many companies don't have the technology or analytics in place to accurately track individual account experience, class of business experience and have little to no loss control data mining capabilities in place. Information is scattered throughout the organization and often remains inaccessible for segmentation and monitoring purposes. The good news is that modern technology solutions are available to quickly close this gap.
Management Mindset
The other challenge in moving to First Seat Consulting may be more daunting and comprehensive. Loss control team members must be freed up to devote more time to actual consulting.
They need to develop real-world safety and loss prevention solutions tailor made for accounts based on an assessment of historical loss trends, operations, priority risks, worksite hazards and safety culture. That translates into a customized service plan implemented with a timeline that includes a mix of scheduled activities designed around specific needs.
This new approach requires a change in management mindset to:
Minimize administrative tasks

Remove the old yardstick of 'quotas'

Use proven technology to your advantage

Pursue an 'Omni-channel' approach beyond on-site visits to leverage all tools in the loss control arsenal.
In other words, management should move away from traditional ways of doing business. One definition of insanity is "doing the same thing over and over again and expecting a different result." If your results in loss control, profitability and account retention are not where you want them to be, it's time for change.